How to Pack Your Backpack for Safety, Comfort, and Efficiency
The way we pack our backpacks can make or break our trip. An improperly packed bag can seem to be heavier than in reality, might push us off balance and cause back pain or injuries.
It takes a few trials to make it right but it is well worth your time to learn smart backpack packing. I am pretty sure it's obvious that the way we pack our backpacks depends on their size and the kind of a hike we are preparing for.
We will pack differently for a short day hike, a weekend getaway or a multi-day trek through challenging terrain. In this post, I will focus on packing the bigger, overnight backpacks as with bigger size and weight it is getting more important or even crucial how we spread the load.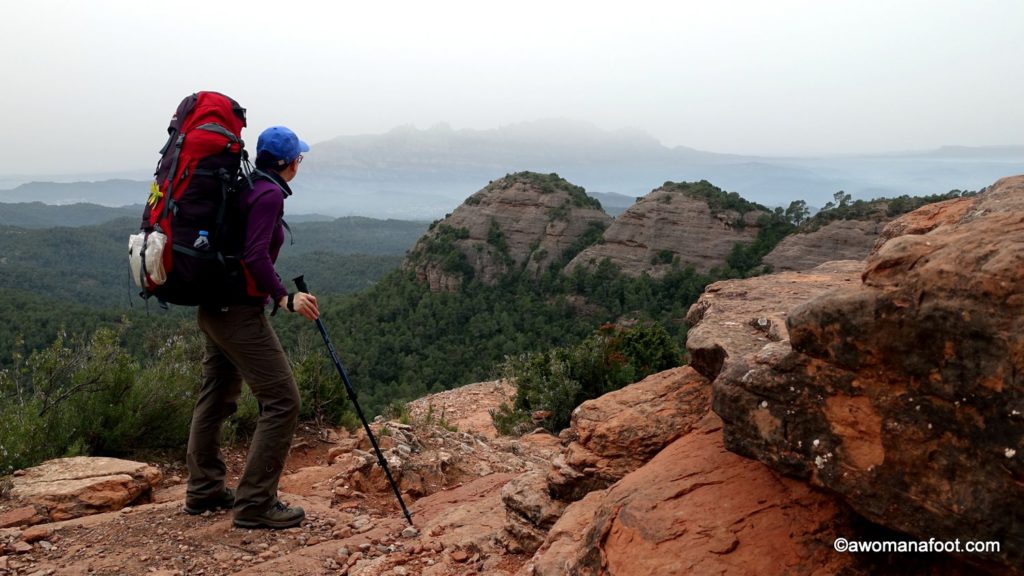 Disclaimer: This post, in addition to some awesome tips and advice, contains affiliate links to respected retailers for your convenience. It means that if you buy anything through those links, I receive a tiny commission at no extra cost to you. Thank you for your support!
Backpack Packing: What size backpack do you need?
There is this amazing backpacking rule that the amount of stuff we need for a hike grows proportionally to the size of a bag. Which means – we tend to find things to take with us if we have a bigger backpack.
Because of it, it is always better to try to fit into a smaller backpack, than to restrain ourselves when filling a too-big bag.
For an overnight hike or a weekend getaway, there should be no reason to take a backpack that is bigger than 50l.
Unless you are carrying some old-school, bulky gear, you should be able to pack all you need to a backpack sized up to 45 l.
If you are unsure how to lighten up your load – read this article for guidance. I've already noticed huge changes when I was able to lighten up my Big Three – the tent (TarpTent's Double Rainbow), sleeping bag (high quality down custom made), and sleeping mat (Therm-a-Rest Xlite).
A while ago, I was able to get a new, smaller backpack (
Gregory Maven 45L
) which I hope to use not only for short, weekend hikes but also for longer, weeks-long treks. (Edit: below you can see both my backpacks at work: on the left
Deuter Aircontact
in Norway, and on the right Gregory on a hike in Crete).
For longer, weeks-long hikes you might need something bigger than 50 l. It is especially the case if you don't have the option to resupply often and need to carry a lot of food with you. Hiking in more arid areas forces one to carry more water.
The backpacks should be carefully chosen to fit your body frame well and the requirements of your hikes. In the photos featured in this post, you will see my Deuter AirContact 50+10, which I really like (review).
It is on the heavier side but it's really great when you are not in the lightweight hiking zone just yet.
Backpack Packing: How to pack for comfort and safety
There are a few rules as to how you should pack your bag to make sure you can hike safely and comfortably.
Lay all you need in front of you. Take only the things you really need. Use dry sacks and compression sacks to minimize the bulk.
Smart backpack packing means that you might need to pack and repack until you are satisfied.
If you are not sure what exactly you need, please check my list of essentials for a day hike and a complete list of 3-seasons hiking & camping clothes and gear.
Start with the light and bulky
First grab the bulky but light stuff, which is your sleeping bag and extra clothes and stuff it at the bottom of your backpack. You can add some clothes you don't need during the day.
Backpack packing is not the same as packing your suitcase for a hotel stay - don't worry about wrinkles – stuff all your clothes in all the holes so you don't "carry air" – all modern down or synthetic insulating materials can be abused with no issues.
No need to carefully fold your garments :). Now try and pack your other camping gear around the sleeping bag - your tent and your sleeping mat.
If you have a bulky foam sleeping pad - you can attach it to the bungee cords on the outside.
Grab the heavy load
Next, go with the heavy things, mostly food-related. The entire load must go in the mid-section, as close to your back as possible.
Make sure it's evenly placed in relation to the vertical axis – if you place something heavier on the left, balance it on the right. At this point, it is all about stability and balance. Otherwise, you risk back and shoulder pain.
Secure the load with clothes – jacket, fleece or socks, to make sure nothing moves and there are no empty pockets of air.
You can also use your tent's fly or body to fill in the space between the heavy load and backpack's walls. If you use water bladder it should go directly to your back, as it's heavy. You can also place the water bladder on top (that's what I do).
Pack your water bladder first as it will be quite difficult to force it down later, with everything else packed.
Take a look at some good water reservoirs below (can't see anything? try refreshing the page):
Top of the backpack, under the lid – whatever you might need during the hike, like a
rain jacket
, a
fleece
,
water filtration system
, first-aid kit, toilet supplies (toilet paper and a
trowel
). Try not to stuff heavy things here at the last minute (do as I say not as I do... ;-)). 
There is a tendency (I'm guilty of it, too) to put too much into the top lid when backpack packing, to the "brain" of your pack.
This may cause the backpack to be too top-heavy and difficult to carry. In the lid pocket put only things you really need close by during the hike, everything else – lower in the backpack.
If you have side pockets in your backpack, use them hold your water bottles or rain jacket. Remember that water is pretty heavy – it's better to carry two bottles to balance the load well.
Smaller pockets are perfect to hold your camera, lip balm or a snack.
Backpack Packing: Your backpack is not a Christmas tree
It might look cool and old school to carry a variety of stuff attached to the outside of your pack but it's not only impractical but could even be dangerous.
It's very easy to get caught by branches or protruding rocks if you have mugs, bags or other things on the outside.
If you happen to hike in a difficult terrain such a situation can push you off balance and cause accidents. It also looks silly.
Stuff everything inside, for your own safety and comfort.
On the outside, you can safely attach your
trekking poles
or a tent pole (if it doesn't fit inside). If you really can't fit your
tent
inside, make sure you attach it horizontally to the top of your backpack, securing it carefully. A light foam
sleeping pad
could be attached to the side.
When I was hiking in Iceland, I also attached my sandals on the outside. I did it only because I needed them during the day as there are a few river crossings. Otherwise, they would be deep inside.
Water protection
Many backpacks come with custom-made rain covers.
If yours does not, buy a
rain cover
that fits that size. Even if you have all your clothes and sleeping bag packed in waterproof sacks, you don't want your backpack to soak in water as it can get really heavy and simply unpleasant.
If you follow my advice and use your spare clothes as hole-fillers, then they are at risk of getting soaked during rain.
Backpack Packing: Other concerns and tips
Have your first aid kit close by. Don't stuff it deep into the bag, you don't want to need to unpack everything in order to get to the band-aids you need.
Have your rain jacket (and rain pants depending on the kind of hike you are doing) somewhere you can easily reach when it starts to rain. Also, have a warmer fleece or insulated jacket on top (under the lid) so you can put it on during breaks. Quite often the moment we stop, it gets really cold right away.
Anything you need on the way: a map, sunscreen, insect repellent, compass, headlamp, etc. must be somewhere easy to reach. I have learned the lesson well when I needed to finish my hike after dark and although my headlamp was in the top lid pocket, the extra batteries weren't... Took me a while to find the small pouch with batteries and electronics at fast darkening skies!
Make sure your backpack fits you well. Doesn't matter how well you pack it if it's too big or too small it will cause discomfort.

At the end make a use of your backpack's compression straps. Everything should be stable, tight and balanced.



How are you doing with your backpack packing?
Have you found these tips useful?
Would you add anything? Let me know below!
You might also enjoy reading:
Did you like the article?
Share with your friends and pin for later!