Read Before You Buy: Salomon Quest 4D Female Hiking Boots Gear Review
On the Quest to find my perfect female hiking boots: Salomon Quest 4D
To find the perfect female hiking boots is not easy. And it is also not a trivial matter: finding the right hiking boots is absolutely essential to ensure the success of your hike and injury-free return home.
The perfect hiking boot will perform well on sandy roads, slippery rocks and when crossing streams. It should fit your unique anatomical needs, be stable and supportive.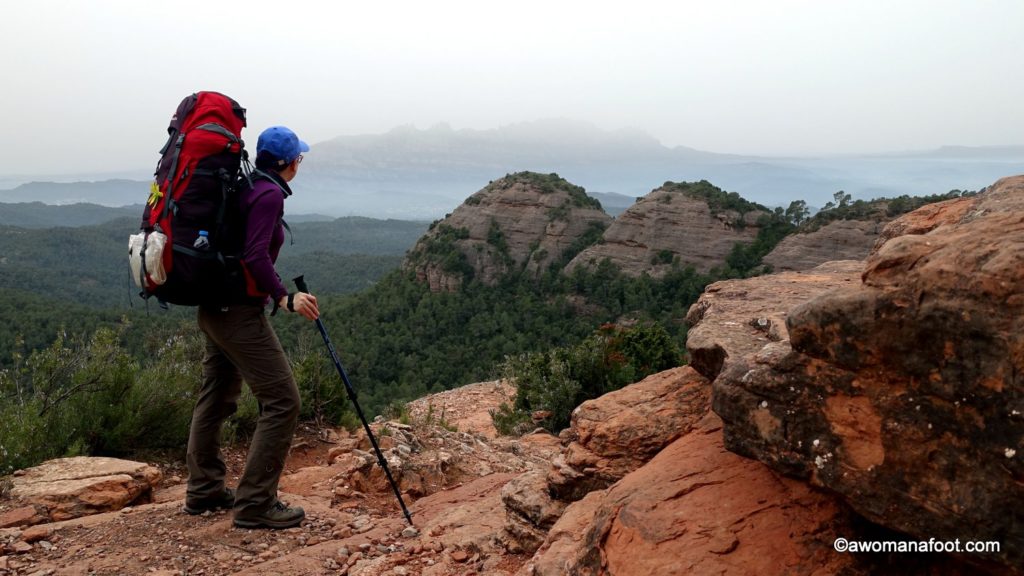 Some links in this post contain affiliate links, meaning if you purchase an item, I receive a small commission at no extra cost to you. Thank you for your support.
What kind of hiking footwear should you choose?
There are folks out there who prefer hiking in light and low hiking shoes rather than the more sturdy hiking boots. Some love to fly through the trails in trail runners.
Me?
I'm all for the traditional hiking boots but with ultralight update. There are a number of factors you should consider when making your decision.
My happy face after completing the West Highland Way trail. In my Salomons of course!
How will you use your footwear?
First of all: the weight you carry. The more your backpack weighs the sturdier and more supportive your footwear needs to be.
I carry a lot on my back so I do not even think about switching to any low hiking shoes (all the more so trail runners) when hiking long-distance hikes.
But I do own very good hiking shoes - Salomon Ellipse gtx and trail runners by Merrell All out Terra – for easy day hikes in non-challenging terrain with basically no extra weight to carry.
But I do own very good hiking shoes - 
Salomon Ellipse
and trail runners by Merrell All out Terra – for easy day hikes in non-challenging terrain with basically no extra weight to carry.
If you think light and low trail runners or hiking shoes are for you, take a look below for some excellent ideas:
(Can't see anything? Try refreshing the page)
What kind of hiker are you?
Secondly: the unique needs of your feet and legs. Some people need more support and some less. The more experienced you are the lighter you can go.
If you are a beginner – the safer route is to use sturdier and more supportive boots, as your feet and muscles might not be ready for the challenges of rough terrain.
Hiking boots offer stability, protection, and support. They used to be really heavy (and some still are, especially those full-leather) but you may find ones that are only slightly heavier than hiking shoes.
If you ever had an ankle injury or are prone to rolled ankles you will benefit from the support hiking boots give.
What I also like about higher boots is the protection from pebbles, pine needles and such, as well as from water when crossing streams or walking through slushy snow.
Boots also offer stiffer and thicker soles which make walking on rocks and roots easier. I'm the type that feels every pebble and rock, and I cannot even imagine walking on some trails in thinner trail runners!
What do your feet need?
It is very important to know the unique needs of your feet. My feet are wide with a high arch, very sensitive to touch and pressure.
I need wide toe box, generally roomy boot, thick cushioning, and a good ankle support.
I want to wiggle my toes (well, we all need to be able to wiggle our toes!) with no obstruction.
I also know myself: I bump into stuff all the time, so I need a good toe protection as well – from hitting rocks and stones.
I am also a messy hiker, I will not be too careful with my gear, I need it to be sturdy and survive some abuse.
My winner for the best female hiking boots
When I was looking for the best hiking boots for myself, I put on about two dozens of different pairs.
I tried all kind of producers: Asolo, Ecco, The North Face, Lowa, Keen, Merrell… whatever I could find.
Most of them were too narrow and were painfully pinching when flexed. Other felt really rigid and I worried the "breaking in" period would last years.
Finally, I ordered Salomon Quest 4D (yay for free returns!) and this proved my Holy Grail.
Comfort
Salomon Quest 4D were just perfect from the start. The moment I put them on, I was in love. There was no "breaking in" period at all!
They were comfortable like fluffy sleepers at the same time providing comfort and stability. I could comfortably move my toes and my feet felt comfy with good amortization.
At the same time, the heel section holds the ankle bones and Achilles well. They look big but are surprisingly flexible and I was able to run in them with no problem!
Heck, I even danced in them once for a few hours, as they were part of my Rosie The Riveter costume ;-) Can your old hiking boots be called your best dancing shoes? :D
I do not go gentle on my boots: they have to perform on mud, rocks, through streams, and boggy grasses.
With some higher boots I also had the problem of the ankle collar digging into a nerve or such on the back of my leg (around the Achilles) causing pain.
But here I have no issues with the high ankle whatsoever. Also, the tongue stays put and does not move to one side or the other. Even when tightly laced, it does not pinch or cause discomfort of any kind.
The beauty of Catalonian red mud :)
Grip and injury protection
Salomon provides their own soles: Contragrip and I have no complaints. Over time I hiked over sand, rock, slimy roots, mud and streams – hardly ever slipped or lost traction.
What I find the most difficult when hiking with heavy loads is downhill walking on steep terrain.
It's hard on the whole of your body from soles up. If the boots aren't good, your feet slips inside, toes bump into the front, the ankle can twist and you can also slip on the uneven ground.
I'm happy to say that I've never had an accident of any kind when climbing down in those boots. The roomy inside does not translate into free fall or slippery disaster.
Salomon Quest 4D have amazing lacing system combined with very comfortable cushioning around the ankle. Thanks to which when hiking down the steep slope they hold your feet well and your toes don't bump into the fronts.
No matter at what angle I put down my foot – the boots held well.
My natural tendency to bump into stuff was also no problem. Salomon Quest 4D have very good front protection, nicely covering all the toes – I could kick stones and rocks as much as I wanted, no risk of injury!
Water protection and breathability
During my hikes, especially in boggy Scotland (or when crossing streams in Iceland), I could test multiple times the Salomon Quest 4 D claim at water protection.
This model is equipped with the standard GORE-TEX Performance Comfort Footwear membrane combined with nubuck leather.
I hiked through constant rains, crossing streams and navigating boggy moors. The time when the boot got really wet was only when the water got in from the inside, meaning that the water got in going over the ankle (when I stepped into a deep bog) or trickling down the leg in heavy rains.
What's important, though, that even when soaked, they stayed comfortable!
If it happens to you – remember to never dry your boots close to a direct source of heat, but rather in room temperature. To help them dry stuff them with newspapers and change them often.
The downside of good water protection is often the lack of breathability. But I can't complain here – I hiked in hot and mild weather conditions, all day wearing two pairs of socks and my feet felt fine. They did sweat, of course, but there was no discomfort or overheating.
Take a good care of your feet and check what options you have in the hiking boot department below:
Very often I saw hikers who in between hikes or going for a bus were wearing flip-flops while carrying their boots or attaching them to their bags… I realized that my boots were so comfortable I felt no need to switch to another pair after a whole day of hike or to get on a bus!
Sizing of the Salomon Quest 4D Women's boots
I am sure you know that you always have to buy your hiking boots bigger than regular shoes. You should try them on while wearing thick hiking socks, not regular ones.
My feet are exactly 24 cm long. I wear usually size 7 or 37,5, sometimes 38. I got the Salomon Quest 4D in size 39 1/3 (UK 6, US 7,5, Japan 24,5) and worried they would be much too big!
But this size is just perfect. I can wear double socks and I still can wiggle my toes and don't feel cramped. When I go downhill my toes don't hit the front. At the same time, thanks to the brilliant lacing and hold on heel and ankle, the support is great and holds my feet in place.
Even when I run around the town in thinner socks, thanks to the lacing system my feet are snuggled inside, there is no issue of too much room inside.
Conclusion
I just love those female hiking boots and highly recommend them.
No matter the conditions – rough terrain or snow-covered city streets, they perform beautifully. Sturdy and strong for walks with a heavy backpack but light and comfortable to just run around the city or out for day hikes. I highly recommend them – check them out, they might just be what you need!
EDIT: This summer I had a chance to test them in Iceland... They performed superbly over volcanic dusty sands, sharp rocks and snow. I crossed over wet stones and climbed slippery rocks - no accidents, no falls, perfect support.
Grade: 5/5 Superb quality, support, and comfort.
Learn more and/or buy them by clicking on the boot below:
Do you own Salomon Quest 4d boots? What do you like in them the most?
Do you hike in other boots? Which ones?
You might also enjoy reading:
Did you like the article?
Share with the world and pin for later!