Read Before You Buy: Deuter Aircontact 50+10 SL Backpack for Women Gear Review
What is all the fuss about, anyway?
We all know that having the right backpack is absolutely paramount if we want to come back from our hike in one piece.
Next to the right boots, it's probably the most important piece of gear you need. I was thinking hard when I had to choose my own.
I've read all I could – reviews, advice, ratings and "ten best" lists. Some were beyond my reach because of price or geographical availability. But among the ones that were in my reach, I still had a hard choice!
I was looking into women's specific backpacks, as I figured they probably would fit me better.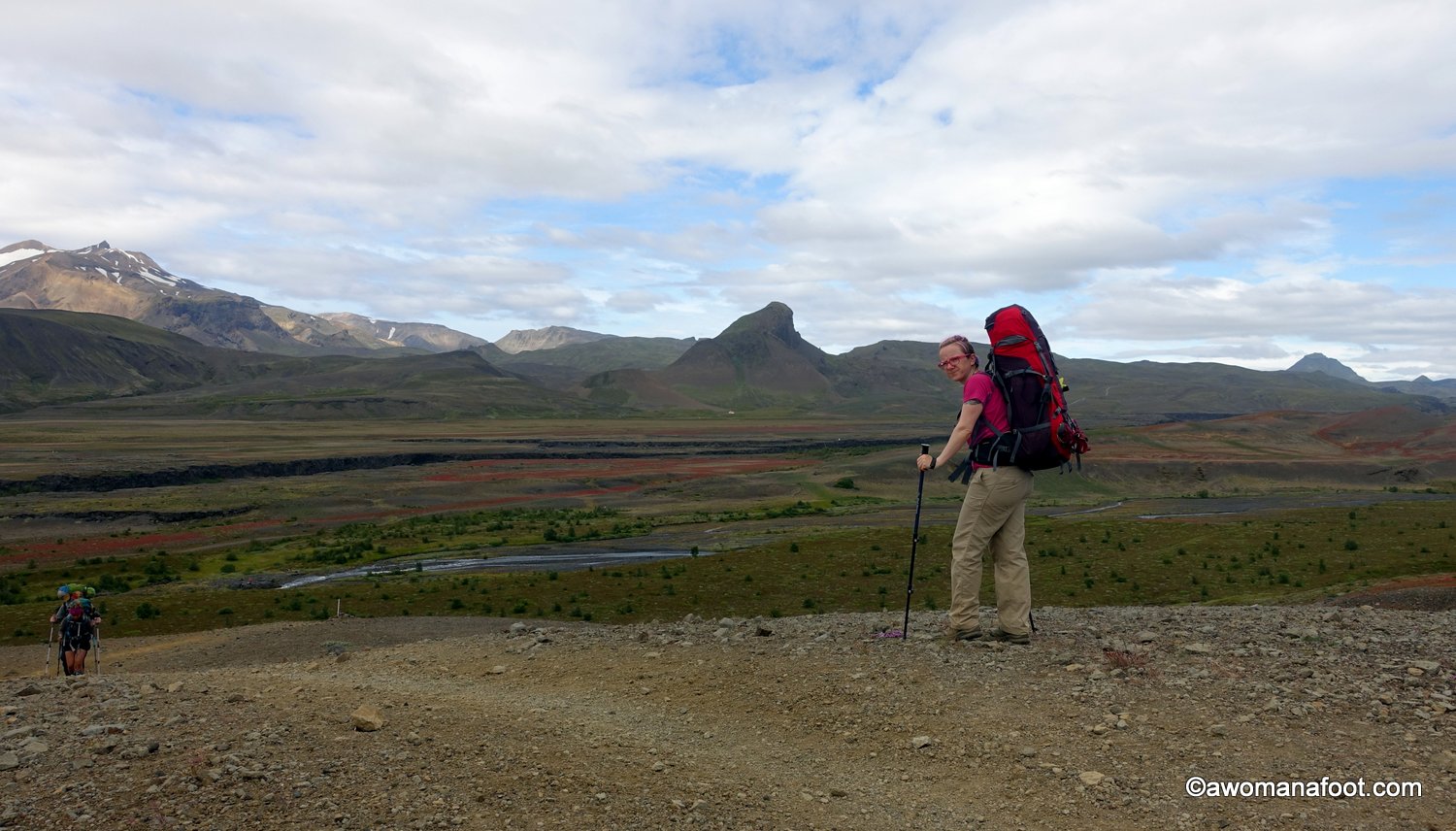 This post, in addition to awesome tips and info, contains affiliate links for your convenience. It means, that if you click and buy something I receive a tiny commission at no extra cost to you. Thank you for your support!
My biggest difficulty was if I should choose a sturdy backpack with a strong back support that comes with extra pounds, or choose a lighter one, but with less back support.
In the end, I went for the support. As much as I wanted to go ultra-light, it just wasn't possible at the time (and still isn't).
My sleeping bag and mat were not the lightest and I had to carry food for about 2 weeks at least. I had some extra gear "just in case" that I will ditch the next time I go, but I wasn't as sure the first time.
In the end, I had to carry about 17 kg in my backpack. The ultra-light packs are better chosen when all other gear is ultra-light as well. I plan on cutting down on my weight with years to go – but I'm not there yet.
The winner: Deuter Aircontact 50 + 10 SL
So, finally, I chose
Deuter Air Contact 50+10 SL
.
It's heavy.
But I love it anyway. For almost a month I hiked with it filled to the brim. Sometimes it was close to 20 kg all together and still – I had no bigger back issues.
The fit and support
For the first few days, I was struggling. I was out of shape, the backpack was too heavy for a beginner like me, and I wasn't packing it well.
But with each day I was figuring out how to adjust it correctly and how to pack it well and balanced.
In the second week, my Deuter was already my best friend.
I found the Deuter Aircontact backpack to be supportive and comfortable.
The back construction allows for great air circulation. I loved the hip belt with Vari Flex hip fins and their heavy padding in particular.
I have fibromyalgia so I am extra sensitive to touch and pressure. With Deuter Aircontact's padding, I felt fine and had no issues.
I am afraid that women with very narrow hips might find the belt too wide, though. I took in almost all the extra belt, there was very little left to take in even more.
Deuter Aircontact has two main compartments, so if you want you can separate the lower one (for a sleeping bag) from the top one.
I preferred to leave it open. One of the best features is a zip so you have an extra front access point – right in the middle. Not exactly like a suitcase, but can be a great help. It's worth keeping your rain gear right there so it's very easy to reach.
Durability and stain-resistance
The fabric (330D Micro Rip Pro 6.6) is very sturdy – after a month of very rough handling, the pack looks like new.
It survived being thrown on rocks, grass and even a bus baggage compartment! I often used it as a seat during snack breaks and the pack didn't complain at all and had no dirt on it.
Pockets
On the side, there is a zipped pocket which was perfect to hold a map and a smartphone. The stretch external pockets were good to hold water bottles, garbage bag or gaiters when not needed. They were not very flexible and somewhat shallow - I had a hard time stuffing something bigger - like a tent - into it.
There are also compression straps to hold your trekking poles at the sides and a sleeping mat at the bottom. It was a bit difficult to return a bottle back to its place with the backpack on.
I often had to resign to taking it down just to put the water bottle back into the side pocket.
There is only one belt pocket which is a downside. It was fine to hold my compact camera and lip balm, but a second one would be useful.
I missed a place to hold snacks or such. On the left side of the belt, there is a kind of a sleeve open from both sides.
Not very practical – if you try to hold your map in there it may fall out very easily. I used it to hold my bendy tripod in that sleeve so I could reach it whenever I needed… sadly, it fell out somewhere over the Trotternish Ridge on Skye.
Water resistance
Deuter AirContact behaved very well during wet conditions.
Of course, I had my clothes and important things packed in waterproof bags, but still – no issues. I used the included rain cover which helped a lot.
It is not very wide, so if you have stuff attached to the pack it might have difficulties with covering it properly. I had this problem when still carrying my sleeping mat on the outside. Later it was easier, but the area on the sides closest to your back was at risk of getting wet. But it fits perfectly over the top.
The cover is rather delicate so I have a few tiny holes in it. But I must admit – I wasn't very nice to it. I was throwing it down on rocks or ground during breaks, sometimes getting through branches or catching on tree trunks. It might be that after a few seasons I will get a new one.
Are you interested in seeing what other choices in backpacking packs you have? Take a look on the right for some high-quality backpacks for women:
Can't see anything? Try refreshing the page.
The backpack's weight and best use
The biggest downside is obviously the weight.
For all that support, comfort and padding you pay a hefty price: it weighs about 2, 5 kg! That's a lot.
But I still love it.
I might go lower when I upgrade my gear to much lighter. But for the time being, for the sake of my back – I choose the support over weight. The very light backpacks only make sense if you downsize all of your things. Otherwise, they can be extremely uncomfortable or even dangerous to your back.
So, if you are going for a longer trip and/or have quite a lot of gear to carry – this might be a perfect rucksack!
My final grade: 4.5/5. Very comfortable, durable, and supportive, but somewhat heavy.
EDIT: I had a chance to use it again during my two weeks hiking in Catalonia and then during summer hiking in Quebec and Iceland (and most recently in Norway!). I still love it! It seems like there is very little that can damage it - as I wrote earlier, I am not particularly gentle with it but it hardly shows any signs of usage. This pack's durability is amazing!
Below - a few photos from more recent treks:
What backpack do you use? Do you like it?
Do you have this Deuter? What do you think of it?
You might also enjoy reading:
Did you like it?
Share it with the world and pin for later!