Your Complete Summer Iceland Packing List
I am so happy you plan on visiting Iceland! This country is stunningly beautiful and I am sure you will have the time of your life! I know I had :)
I am guessing you are wondering how to pack for the hiking trip so I am here to present you with a complete summer Iceland packing list!
At the end of July, I spent a week hiking along the Fimmvörðuháls and Laugavegur trails. Six days hiking through the most mind-blowing landscapes.
I was lucky that the weather was really nice. It was raining only a bit and most of the time only during the night. Only on the last day, there were heavy rains with icy winds. But I was prepared for the worst so didn't really have any problems facing whatever the Viking land would throw at me.
I want to make sure that your summer hiking and camping in Iceland will go as smoothly as mine. I hope you find this packing list and a variety of tips helpful!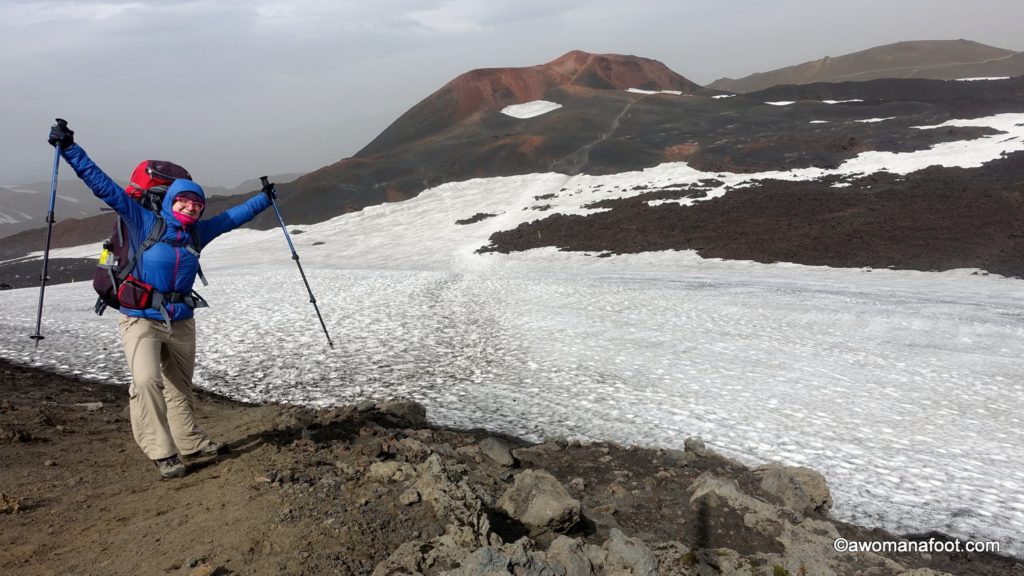 This post, in addition to total awesomeness, contains also affiliate links. It means that if you click on them and buy something, I get a tiny bit of compensation with no extra costs to you whatsoever. Thank you for supporting my work on this resource page.
Summer Iceland Packing List: What to expect?
Summer in Iceland is nothing like summer in the rest of Europe. I remember taking a break on my way to Hrafntinnusker and texting with my Mom letting her know I am all right.
She complained how she was basically baking in her newspaper kiosk with no AC and 37°C outside. I answered her that I was sitting in a jacket, with a hat and gloves on, looking at snow patches. The temperature was around 7°C. 30°C difference!
That's huge.
It doesn't matter what is going on in Europe or North America, Iceland has its own idea of summer :)
When I was at the sea level in Reykjavik, the weather was somewhat spring-like. During the day if the sun was out, I was walking around in my short-sleeved tee.
But the moment clouds rolled in, I was shivering. If there is rain, the weather reminds more late November, than summer. The higher you climb, the colder it gets.
When you get into the Highlands, hiking any of the beautiful trails, you have to prepare for every possibility: beautiful sunshine, icy cold winds, torrential rains, thick fogs, lovely but ice-cold evenings... You see what I mean?
Pack well and no matter what the day brings, you will have a great time!
So, let's begin with clothing.
Summer Iceland Packing List: base layer
First of all, let's talk fabrics. Don't even think about wearing cotton!
Wet cotton (and it will get wet from sweating or possible rain) is not only unpleasant cold wet compress against your skin, in Icelandic conditions it can actually be dangerous and bring hypothermia.
Wear merino wool - the safest, as wool keeps on you even, when wet. It also doesn't get stinky for quite a while, which is highly important when you have no access to a washing machine (or warm water).
Alternatively, wear a high-quality synthetic base layer made for sports activities.
Underwear - depends on the length of your stay, at least 3 pairs. There are limited options as to washing your clothes when hiking in Iceland. The water available is icy cold and the weather might not be cooperating to help with drying...
Swimming suit - now that's a unique thing for hiking in Iceland! Where else can you go and take a dip in geothermal hot springs?
Socks - To save your feet and prevent blisters, I highly recommend wearing two pairs. First pair - thin, synthetic liner and second - a nice, thick merino blend sock. 2 pairs of liners, 3 pairs of wool socks. You want one clean pair for the night.
Top - Two or three merino long-sleeved shirts plus one or two short-sleeved. You might want to add another synthetic shirt. Remember, that you need one to sleep in.
Leggins/long johns/tights - perfect to sleep in and as an alternative to regular pants if you like to hike in leggings.
Again - no cotton! Grab either a nice pair of merino or light synthetic.
Unless you get really cold, you probably won't need them to hike in. But it might be my preferred style - I don't care all that much about my legs getting chilly as long as the rest is warm.
I grabbed a regular fitness leggings and it was a bad idea - comfortable but too heavy! I need to find a pair that is not only good as underwear/sleepwear but is also light and looks good enough to wear outside.
Bra - find a good merino or synthetic bra that is dedicated for backpacking. Regular sports bras have thick straps that might rub painfully under your backpack. Find one which straps go close to your neck and are pretty thin.
You don't need a high impact bra for hiking - most of the time you are just walking gently.
Consider the options below for your trip:
Can't see anything? Try refreshing the page.
Pants - One pair of hiking pants might be enough unless you can't stand hiking in dirty ones! My pants got so nasty from all the black volcanic sand!
I hiked in my leggings (which I normally don't do) because I was done with them. I hiked in regular nylon fast-drying hiking pants.
If you want, you might grab a pair of soft shell pants for additional protection from cold and the wind.
You might want to take pants with zipped-off legs for a river crossing. I had a very loose pants so I could roll them up with no problem, but with some pants, it might get difficult!
Summer Iceland Packing List: mid-layer
Here you're starting to get more options. I like to have two (sometimes three) different kinds of the mid-layer and sometimes I wore two at once.
Fleece - a thin zippered or pullover Polartec fleece is just the perfect second layer.
I also took a winter running shirt by the North Face. It has a very thin fleece layer with a stretchy synthetic on top. I wore it often as a regular hiking shirt over a merino base layer.
Sometimes with the synthetic insulated jacket on cold days. Which meant 3 different mid-layers.
Thin, insulated jacket - this is my favorite one. I have a thin synthetic jacket by Salomon that I love. It's light, can be packed easily and adds just a bit of warmth without feeling like walking in a winter jacket.
I always had it close by so I could put in on right away during breaks. It was also very comfortable hiking in during colder hours. You might want to get a similar synthetic jacket or a thin down sweater.
They are very popular (quite understandably!) and you have a huge variety of styles, materials (synthetic or down) and weight. Choose whichever you like - you won't be disappointed!
Take a look below to see the rainbow of options :)
Summer Iceland Packing List: rainproof layer
Rain jacket - You absolutely must have a good, rainproof jacket. I can recommend ones with pit zippers for better air circulation.
I've been using Marmot PreCip Jacket both in Scotland and in Iceland and I can recommend it.
Rain pants - this is not an option for Iceland. Getting soaking wet when the temperature is about 3°-7°C with icy cold winds is no fun and can be even dangerous.
I got Marmot PreCip Rain Pants for my Icelandic adventure and I really like them, especially that they can be put on off without taking your boots off!
Take a closer look at your choice in rainproof layer below:
Would you like to see more photos from Iceland? Click the logo below!
Summer Iceland Packing List: Smaller items
A warm hat - either grab a separate woolen or fleece hat or use merino buff to make one.
A buff - for neck protection and general use. I used it as an eye mask as well - it doesn't get dark in Iceland until late!
Thin running gloves - the winds can get really cold and I was happy to wear my gloves!
Waterproof mittens/gloves - this might feel like an overkill but I was so happy I had those! I wore them over my stretchy gloves and kept my hands nice and comfy in the icy rain!
Sunglasses
Baseball hat - I love those as they protect not only from the sunshine but also from the rain. I hate to have raindrops on my face and the hat keeps them off. If it's also cold, I just put a buff over the hat. Classy, I know. But it works!
Summer Iceland Packing List: Foot Wear
Hiking boots - You need a pair of good, sturdy boots. No need for the alpine hard shell, but have a solid boot. You will go through snow, sandy dunes, sharp volcanic rocks...
Don't wear low hiking shoes or trail runners unless you are highly experienced ultra-light hiker (but then, you probably wouldn't be reading this post!). Make sure you break them in first - buy a new pair a few months before hitting the trails to prepare them.
I had my beloved Salomon Quest 4 D (check my review) - you might also like them. Recently I got a pair of Hoka One One Tor Ultra Hi boots - you can read my review to check if they might be for you. I didn't have them in Iceland but tested them on sand and rocky soil of Crete and they were great.
Water shoes - there is quite a number of river wading in Iceland and you need a pair of shoes that will help you with that.
The best would be if they can double as your comfy camp/hut shoe. I had Keen sandals, you can also grab a pair of dedicated water shoe or well fitting Crocs.
Just remember the water stream can be very strong and you might lose your Crocs. Flip-flops are as good as gone, don't even bother ;-)
Summer Iceland Packing List: Hiking Gear
Backpack - If you are planning on camping (as opposed to staying at the huts) you will need a bit bigger backpack but don't take anything bigger than 50-60 l.
You need to carry all your food but you don't want to carry too much load. You might probably fit into <50 l if you have a light/small tent and a small sleeping bag.
Go light to limit the load you are carrying! I was carrying not only my tent and food but also some things I needed in Canada where I stayed for a month before hitting Iceland, so my bag was a bit big.
I was using Deuter AirContact which is an amazingly well fitting bag for women. It is on a heavier side but I can still recommend it, especially if you are carrying rather heavier gear.
Make sure your sleeping bag is well protected from water - especially if you have a down bag!
First Aid Kit - In addition to the regular hiking first aid items like band-aids and bandages, don't forget to carry the "space blanket" which helps to protect from hypothermia in emergency situations.
Summer Iceland Packing List: Camping Gear
Tent - Take as light as you can afford. If you are on a budget I can recommend this lovely Vango which weighs only 2kg.
Just before the summer, I upgraded to Double Rainbow by TarpTent (review) - it's just 1kg! I loved it. Choosing the type of tent is your personal thing but I advise getting a bigger one so you can have all your things inside, protected from the elements.
My tent is a 2 person one, so I can fit myself and my backpack and all my crap and don't feel cramped.
Forget about a hammock - there are no trees ;-)
Sleeping mat - You might want to take a simple foam mat but I advise against it. Most of the time you will sleep on a rocky and hard surface and you want to have something thicker.
You can grab a self-inflating mat or one of the ultralight mattresses. For this trip, I upgraded to Therm-a-Rest NeoAir for Women (read my in-depth review here) and it's just amazing!
It's tiny, weighs only 350 g and is 6 cm thick. It also has a very good insulation factor (RV of 3,9) - quite important in such a cold country.
Sleeping bag - First of all, you have to decide if you want to go with a down or a synthetic one. Read my post that describes in details all the differences and helps you choose the right down sleeping bag.
It is true, that Iceland is wet but if you take a proper care you don't have to worry. I was glad I had my very warm, custom-made, down sleeping bag with me - no matter the weather, I could rest in a cozy, warm cloud of down :)
Cooking stove - As much as I love my MSR Pocket Rocket, I must admit that in the cold, strong winds it was hard to get it going (or was the fault of the cold gas canister? not sure).
I wished I had one of those combos with a windshield and ultra-fast boiling! I highly recommend them if you can afford them. If not - the regular gas stove is still the best budget option. I would advise to buy gas canister designated for cold temperature and think about wind protection for your stove.
EDIT: I upgraded recently to the Jetboil Minimo and I'm very happy with that decision. You can read my review of it here.
Pot - You don't need a whole set of pots and pans. I've been using just one 0,8 l during my treks and it's perfect for a solo traveler.
I boil water for a cup of coffee/tea and the rest is for oatmeal or instant soup. I don't take any additional plates – I eat my breakfast or dinner straight from the pot.
Grab a titanium one or a light aluminum one – just stay away from steel, it's heavy. If you want to learn more about all the wonderful variety of camping cookware jump over to this post!
Water bottles - Depending on the trail you take, there might be times where you have to take more water with you. It might seem like there should be no problem with so many rivers but some of them flow in deep ravines with no way to get close to them.
I can recommend Platypus bottles - they are light and easily packable when empty.
Make sure you stay hydrated! Check out the gear that can help you with that below:

Utensils - at least one spoon plus a knife. I don't bother with a fork or sporks. I have one long titanium spoon and it's good for anything.
Coffee/tea mug - I use this GSI light thing. It's awesome, I even use it at work all the time.
Firelighter
Water filtration system - Mini-Sawyer water filter - I highly recommend it. Carrying it with you means you don't have to take as much water, so a lighter bag.
Check out some more useful bits and pieces around the camp:
Summer Iceland Packing List: tech gear
Camera - I use Sony DSC rx100m3. Absolutely the best hiking compact camera. It's small but the photo quality is astonishing.
EDIT: I recently upgraded to Sony Alpha a5300. Wonderful camera!
EDIT: I recently upgraded to Sony Alpha a6300 Mirrorless Camera
. Wonderful little thing!
Power bank - I hate running out of juice and there are no free options to charge your stuff along the trails I hiked.
I had a power bank but it was enough for only 1,5 charges of my phone! Grab a good, powerful power bank (I recommend 20k mAh) so you are good for at least a few days.
Adapter - you might need it depending on your country of origin.
Kindle - I know, it's not a must but I find it necessary. Not only to relax after a long day (and you can read with no light on because it's light so long in Iceland!) but also store important information - documents with your insurance, trail guides and descriptions, flight info, bus schedules etc.
Headlight - you always have to have it when hiking. Needed less than in other countries because of the late sunset but what if you needed to pee in the middle of the night?
Selfie stick or a small tripod.
Phone with useful apps (like View Ranger) and GPS
Summer Iceland Packing List: Other things
Spare shoelaces
Whistle - some backpacks have them built in the sternum belt, if not- attach it with an elastic band (like hair band) somewhere close by to use in an emergency.
Bags for your trash, toilet paper
Notebook and a pen - if you like to take notes on your hikes
Personal hygiene items - toothbrush/toothpaste, face cream, face cleanser (I use Cetaphil face cleaner and think it's the absolute best product for sensitive skin, I don't even consider not taking it), biodegradable soap, menstrual cup, sunscreen (for real - I got sunburn in Iceland!), lip balm, hand cream.
This list is obviously quite subjective. You might add some things or consider some useless.
Prescription medicine
Have you been hiking in Iceland?
What do you think about this Summer Iceland Packing List?
Would you add something? Write in comments!
Have an awesome time hiking in Iceland!
You might also enjoy reading:
Did you like the article?
Share it with your friends and pin for later!